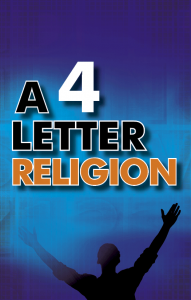 There is a big difference between your religion and mine," a Christian lady said to a friend in their discussion of religious beliefs."In what way?" he asked.
"Your religion has only two letters in it, and mine has four," she replied.
It seems that this lady's friend was someone who felt it was necessary to work his way into heaven. He faithfully followed the ordinances and ceremonies that his religion required in his attempt to be accepted by God into heaven at the end of his life. He was basing his acceptance on what the Bible calls "dead works."
He did not understand the Christian lady's reference to the two letters and the four letters, and so he asked, "What do you mean by two letters and four letters?"
"Let me explain," said the lady. "Your religion is d‑o, two letters, a DO religion, whereas mine is d‑o‑n‑e, four letters, DONE!"
The discussion ended with that comment, and the lady went on her way. Her simple explanation remained in his thoughts, however, causing the man to do some serious soul-searching. As he considered the comparison of the two words, the difference became evident. He had been trying to follow rules and regulations devised and acceptable by man's standards, but God offered forgiveness of sins through the work that Christ finished on the cross — Christianity.
The two letters and four letters was an unusual and original way of explaining the gospel, and it was very appropriate for this man who had been taught that he must follow strict religious laws in order to acquire the reward of heaven. He realized that he had been a legalist, hoping that keeping these laws would cancel his sin, whereas the Bible teaches that any works we do cannot cancel even one sin. "We are all as an unclean thing, and all our righteousnesses are as filthy rags" (Isaiah 64:6). "Not by works of righteousness which we have done, but according to His mercy He [saves] us" (Titus 3:5).
The next time he saw his friend, he told her, "Now I can also say that my religion is d‑o‑n‑e, DONE."
The Spirit of God had shown him that his religious deeds were worthless in removing his sins, but that all God required to settle the sin question was to accept the finished work of Christ. He understood that it was no longer a question of what he could do for God, but of what God's Son had done for him.
The matter of his sins was settled. What a joy and relief it was for this man to know that what he had been striving and hoping for was already completely finished — DONE — almost 2000 years ago on the cross! Now he could look forward with certainty to an eternity in heaven.
Christ has finished all that God required. He has put away sin and satisfied the claims of divine justice. He has conquered Satan, taking the sting out of death. He has glorified God here on earth where He has been dishonored. He has brought in everlasting righteousness. All of this is included in these four letters: d‑o‑n‑e.
Will you exchange the deceptive belief and system of "doing" for the joy and Bible truth of Christ's having already "done" what God requires?
Question: "What must I do to be saved?"
Answer: "Believe on the Lord Jesus Christ" (Acts 16:30‑31).
"By grace are ye saved through faith; and that not of yourselves: it is the gift of God: not of works, lest any man should boast" (Ephesians 2:8‑9).
Nothing either great or small,
Nothing, sinner, no;
Jesus did it, did it all,
Long, long ago.
Cast your deadly doings down,
Down at Jesus' feet;
Stand in Him — in Him alone —
Gloriously complete.